OPERATION CONTRACTS
---
Under this contract, AIPL provides competent resources based on the scope & SLA signed with clients. The contract covers only the manpower operations. The cost of all spares & other works are on chargeable basis.
The resources are trained at our, in-house training center for technical & soft skills. The training program can be further customized based on clients' inputs & feedback. AIPL & its resources are fully compliant on all aspects of regulations & statutory compliances.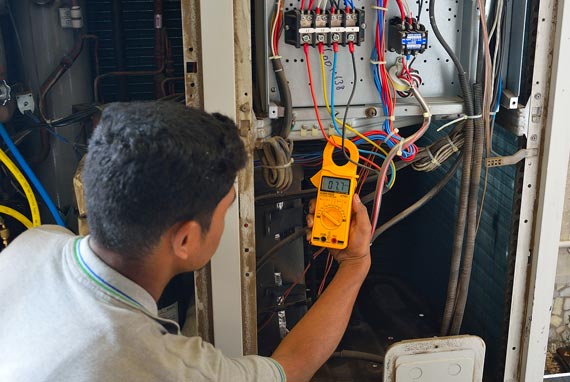 ---
COMPREHENSIVE CONTRACTS
---
In such contracts, the entire equipment is covered for all its parts & services including complaint calls & Preventive Maintenance Services (PMS) at regular intervals.
The plastic parts, body & coils are not covered under these contracts, unless otherwise specifically agreed upon. The entire client data gets managed through software for scheduling, tracking & machine performance records thus creating better client experience.
Maintenance is taken for any makes. AIPL has the ability to diagnose & provide spares in quick time. The area of operation is divided into zones based on client population with supervisor effectively managing field technicians of each zone.
The technicians are always on field with our three pronged strategy of
CAP (Cash thru App) | RAP (Reports thru App) | SAP (Spares thru App)
These actions always help us being more productive on field & thereby enhancing our SLA parameters, especially of response time & uptime.
---
REPAIRS & RETROFITS
---
Anukool India with its decades of experience in design, planning and execution of fast-track projects in various segments like comfort, pharmaceuticals, laboratories & hospitals is well equipped to cater to retrofit services.
Under the retrofit scheme, we undertake to evaluate entire system for current physical & operational conditions, outputs and suggest necessary improvements, keeping in mind new energy saving technologies & green building standards in mind.
Following are few examples:
Re-designing and refurbishment of older HVAC systems & plant rooms.

Replacement of old chiller package with new energy efficient, user friendly and environment friendly chillers.
Replacement of heat exchangers like heat exchanger coils, compressors, pumps & cooling towers.
Replacement of cooling water /chilled water piping due to aging, heavy corrosion, leakages, scale formation or to suit required water flow.
Replacement of microprocessor based control panels.
Replacement of various energy saving controls like modulating valves.
Addition of supplementary products to enhance the capacities & indoor air qualities.
Treating the metal surface with anti-corrosive treatment with specialized chemicals for longer life.
---
---
One of the most important aspect of efficient & trouble-free operation of any HVAC system is its balancing.

At AIPL, we have specialist team whose only job is to balance air & water across our own project sites & also for third party requirements.

We have the latest equipment's which are calibrated periodically.
Indoor Air Quality (IAQ) Audits
Today Indoor Air Quality is an important subject being discussed across industry forums.

With a large working population spending more than ten hours in an indoor environment, it has become imperative that the air we breathe is of the right quality especially in terms of oxygen content.

We measure IAQ of the indoor environment and suggest ways & means to enhance it to make the place more habitable.
Over a period of time, a layer of dust, mould, bacteria gets formed inside the ducts, which poses a major threat to maintain Indoor Air Quality.

These contaminants may also include soot from traffic and energy production, dust mites, mould, chemicals, airborne allergens, and animal dander.

Once these contaminants circulate throughout your home, office, or commercial building, they may cause adverse health effects to you and everyone visiting these buildings.

A sophisticated way of cleaning the ducts with:

Automated nozzle

Rotating brushes

Robot mounted cameras

Spraying chemicals

Disinfection is the solution to maintain hygiene & avoid mould growth.

AIPL has the sophisticated equipment & trained personnel to carry out duct cleaning in the most efficient manner.
Helps in arresting bacterial and fungal growth.

Helps in keeping coil surface free of deposits.

Clean coils lead to at least 10 to 15 % energy savings.

Helps avoid downtime of coil cleaning, and helps increase life of coil.
Help in Maintaining Indoor Air Quality & Eliminates additional fresh Air load

Keep a check on Viruses by neutralising them and hence arrest the spread.

Takes care of dust particles as small as PM 2.5

Removes Odour

Most effective in comparison to Additional filters. They can be fitted in Hiwalls, Cassettes & Ductables split systems.